Partners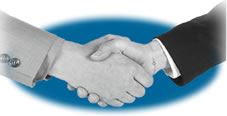 Overture
The world's leading provider of Pay-For-Performance™ search on the Internet. The company created the market for Pay-For-Performance search by redefining how businesses market online. The company enables advertisers to bid for placement in its search results on terms that are relevant to their businesses. These search results are screened for relevance by Overture's editorial team, and are then distributed to thousands of Web sites across the Internet, including Lycos, MSN, and Yahoo!. Advertisers pay Overture the amount of their bid only when a consumer clicks on their listing, providing them with one of the most cost effective ways to drive targeted customer leads to their sites. Overture is based in Pasadena, California, with offices in New York, San Francisco, Germany, Ireland and the United Kingdom.
History Overture, formerly known as GoTo, was founded in September 1997 by Bill Gross' Idealab. In June 1998, the company launched its Pay-For-Performance search engine that enables advertisers to bid for search result placement on specific keywords relevant to their businesses. On June 18, 1999, the company completed the initial public offering of its common stock, which commenced trading on the Nasdaq National Market.

More than 150 million times a day, people use Google to find what they're looking for. Make sure they find what you're selling.
Google AdWords Select program offers advantages not found in any other online ad program, but the most important one is the return you'll get on your investment. Because at the end of the day, it's all about results.
Google AdWords Select ads appear on Google and partner sites.

Maximum Reach LookSmart Network of partners reaches 77% of Internet users.
Target Your Customers Highly targeted listings mean better-qualified customer leads. You create the listings that best target your customers.
Performance Pricing You pay only when your listing is performing.
Low-Risk Unused funds carry over and are refundable. Cancel any time.
Hassle-Free Your listing manages itself according to your targets. No need to continually monitor a bid or placement.
Register now and drive targeted leads to your website
Media can help you access targeted leads from 72% of the UK's online population. To view some of the benefits of listing your site click here. By ensuring that your listings appear within our top 3-5 search results, you will benefit from highly targeted leads from Yahoo! UK & Ireland, Ask Jeeves, ntl:home, Netscape, UK Plus and Looksmart and many more.